Padel World Press - There is less than a week left for start the final draw of the first major tournament of the year in which we already know the crossings. We talk about the first test of the A1 Padel.
The tournament starts strong, and it is that in the first two days they will play matches of a very high level with the coming-out of new couples who will give a lot of show throughout the year. doubles as Sanchez Blasco-Britos, Peirón - González, Chozas - Oliveira or Puppo - Yob and Barrera - Del Moral.
Duels like Puppo's - Yob Vs Barrera - Del Moral or Luque - González Vs Chozas - Oliveira They will make the crowd vibrate in the first games of the round of XNUMX with players who will fight to be in the top positions of the ranking during the season.
One of the couples that will also be in the other professional circuits will also enter into action in the first round; World Padel Tour and Premier Padel, we talk about Jose Garcia Diestro and Pincho Fernandez.
Left side of final frame PaySpace Cape Town Master
We are going to discuss the seedings in the final table of the first tournament A1 Padel of the year; Franco Dal Bianco and Maxi Arce would be ordered in the first position, followed by the couple made up of Sánchez Blasco and Andrés Britos in the fifth crossing, in the third position they would enter Alfonso-De Pascual, followed by the eighth crossing with Agustin Torre and Diego Ramos.
Right side of final frame PaySpace Cape Town Master
On the right side of the painting they would enter through the upper part Pablo Barrera and Matia del Moral, followed by Yain Melgratti and Federico Chiostri, leaving the lower part of the table to Chozas and Oliveira followed by Adrián "El Tito" Allemandi and Tolito Aguierre.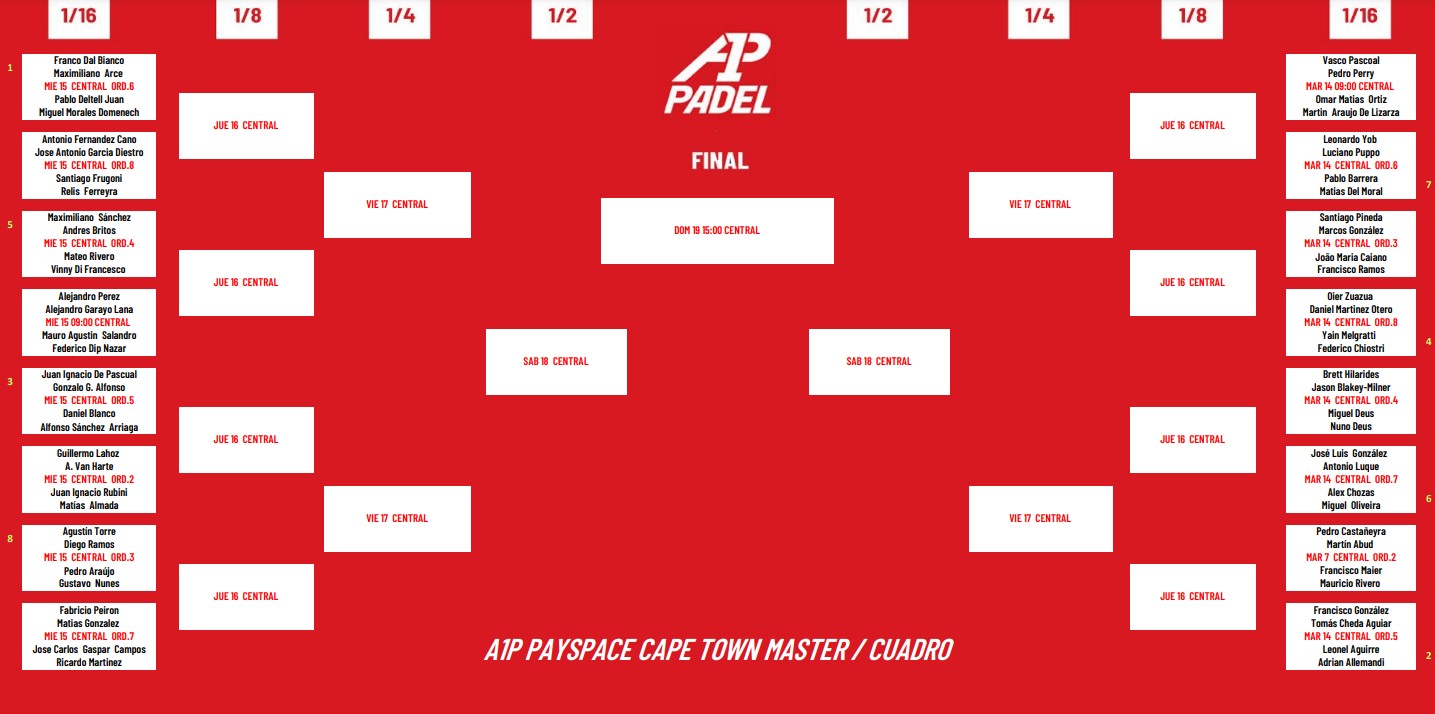 * You can follow all the news of the world of paddle in our profiles of Facebook y Twitter as well as subscribe to our Newsletter .
Comments
comments