Padel World Press .- It is one of the leading firms in the world of paddle tennis, a brand that has not stopped growing or evolving in every way. With great blades season after season, in this 2021 Collection they have offered us some high quality models, among which we find Titania Kepler and Titania Kepler Pro.
Belonging to its Star Range, or line developed thinking of all those players of an Intermediate Level who want to continue evolving in their game, it could be said of both that they are very versatile, very comfortable and that stand out for their manageability ... their differences?
Made in a round shape in the factory of StarVie At Azuqueca de Henares, Titania Kepler is composed of fiberglass in its core and carbon in the tubular, while Titania Kepler Pro has a 100% carbon core and tubular.
As is already known, fiberglass is a more flexible and softer material, which allows a greater output of the ball, while carbon is more rigid, thus providing greater hardness to the plane and, with it, more control and power. .
As for the Rubber, Titania Kepler uses a 30 Soft density rubber, which is characterized by being soft and by providing a greater ball output. In this case, the paddle absorbs the ball more and, with little effort, it comes out faster, so it helps to have more comfort and ease in hitting.
For its part, Titania Kepler Pro uses a 50 Pro medium density rubber and, by not absorbing the ball so much, it with greater force and favors both control and power of the blow. That is why it adapts perfectly to all those players with good technique who want to add a bit of aggressiveness to their paddle tennis.
Regarding the Technologies, both have Titania Core, a piece located in the heart of the blade that offers maximum manageability and a better distribution of weight, as well as the Reinforcement Torsion System, an angled design of the heart of the blade to reinforce the anti-torsion effect and reduce the vibrations that are transmitted to the grip of the blade. However, only Titania Kepler includes the Extreme Spot, or technology is applied to the tubular of the blade to expand the sweet spot on the surface of the same.
Once the 'nuances' that make these 'sisters' different have been explained… What is your ideal model?
Source and Image: StarVie Blog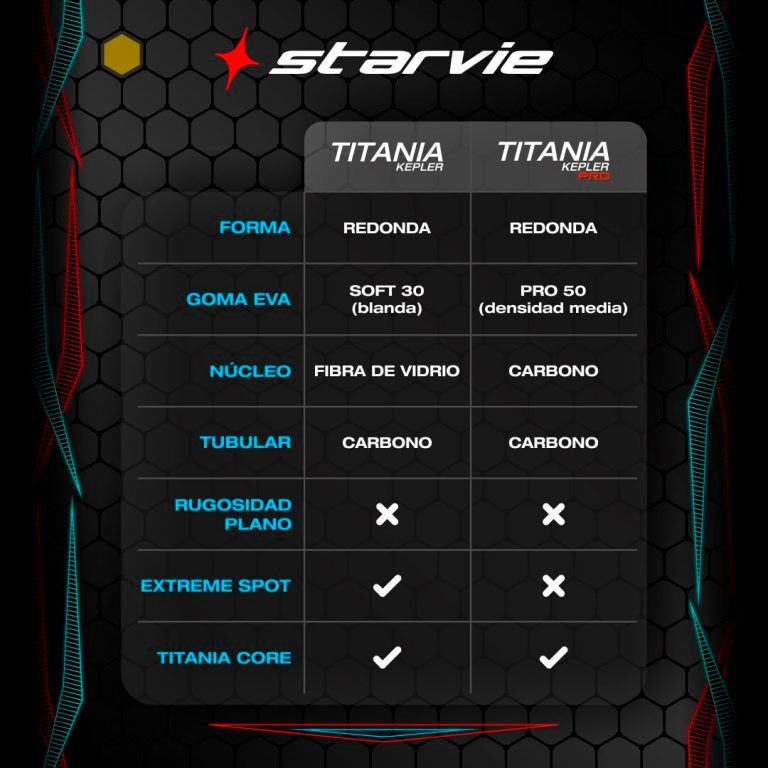 * You can follow all the news of the world of paddle in our profiles of Facebook y Twitter as well as subscribe to our Newsletter .
Comments
comments