Padel World Press - Undoubtedly, head padel, It is one of the great references in the world of sports and, for more than a decade, it has also been in the world of paddle tennis.
Because the Austrian firm has managed to compose a firm, solid and highly relevant scenario thanks to careful product manufacturing, a remarkable communication policy and a more than outstanding presence within professionalism and the professional circuit World Padel Tour.
And is that Head Padel It has been the firm that has had the latest number one in the world as Fernando Belasteguín, Sanyo Gutiérrez, Alejandra Salazar or Ari Sánchez who have given positive feedback to an already top-of-the-line product.
HEAD Graphene 360+ Delta Hybrid, capacity and quality
And is that talking about Head Padel It is to do it of a firm that, above all, has been a revolutionary of the product that has managed to have among its collections some of the best sellers of each year.
Because for more than 10 years Head Padel It has managed to maintain a line that has not only allowed it to adapt to what the market demanded, but has also been generating trends with specific technologies, materials and models that are already part of the history of the sport.
In this 2020 your big bet come way Head Graphene 360+ Delta Hybrid, a paddle tennis racket that It arrives to evolve its predecessors and do it with a qualitative leap in the most playable power.
A Head Graphene 360+ Delta Hybrid It comes with a sharp diamond format so that, thanks to its high balance towards the tip of the shovel, and its correct sweet spot, get the most out of offensive blows on the court.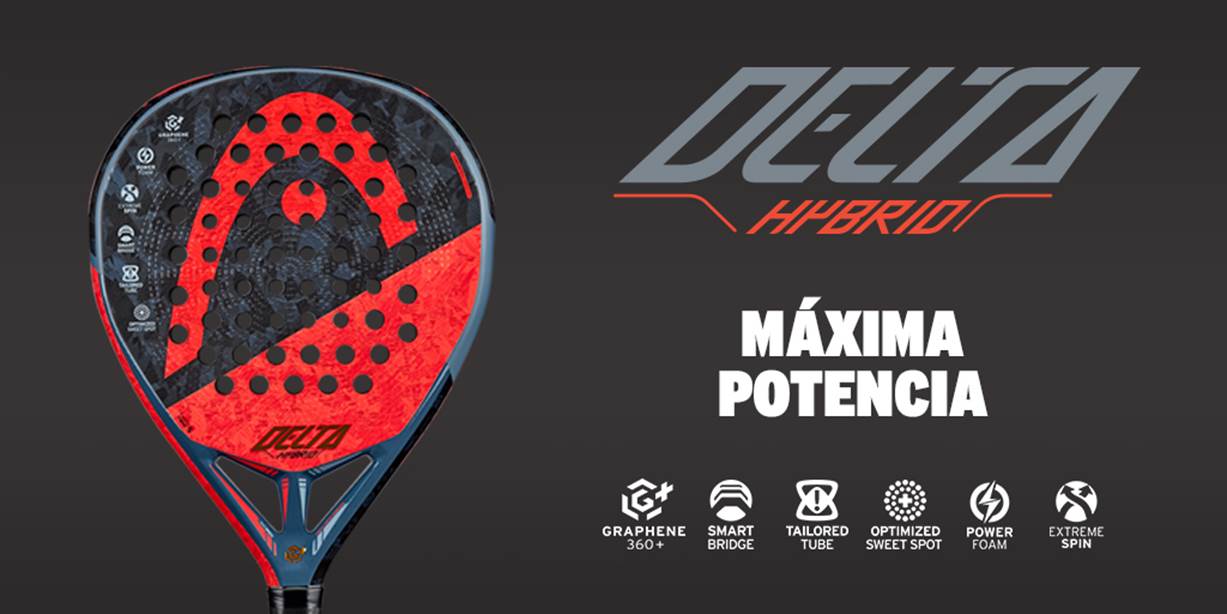 A revolutionary model that has a careful manufacturing by the Austrian firm. Head Padel is committed to a comprehensive carbon manufacturing framework to guarantee maximum stability which, in addition, gain in lightness and mobility by incorporating the Graphene 360+. In the faces the carbon allows to have the maximum forcefulness in each hit while betting on a Power Foam rubber for the inner core.
A model that also has two great technological advances. Head Padel gives this product a final layer of roughness called Extreme Spin while on the bridge you bet on the Smart bridge which gives stability and reduces possible vibrations as much as possible.
HEAD Graphene 360+ Delta Hybrid, the jump to the ultimate power
Once we know how this paddle racket has been manufactured, it's time to know what is your performance within twenty-ten and what pros and cons amateur players can find.
In defenceThis Head Graphene 360+ Delta Hybrid it behaves. It is not a model that seeks to bring out the best in itself at the bottom of the track, given its qualities and performance, will demand the best from the player to carry it to make an excellent defense.
A shovel that, yes, allows you to have a great ball output -something that is noticed and appreciated- thanks to the Power Foam rubber and that makes both the tense blows by the bottom and the balloons are made with great feeling when it hits the optimal hitting area.
A shovel that although he doesn't suffer much at the bottom of the trackGiven its marked character, it will be aimed at advanced level players who want to get the most out of this section.
But, everything changes when you manage to get out of defense. As the Head Graphene 360+ Delta Hybrid It takes close positions the network unfolds its full potential and you can see what it was made for.
In attackThis Head Graphene 360+ Delta Hybrid It is one of the shovels that will mark the year for its ability to generate speed, forcefulness and power in each and every offensive hit.
In the volley, this model of Head Padel it behaves agile and forceful at the same time showing great stability to the short assembly that generates an efficient, deep and loaded load of a lot of spin.
Something similar to what happens with the tray. Maybe it is for the balance, or for the compensatory system of the heart of the shovel, but the truth is that with this Head Graphene 360+ Delta Hybrid corners are easy to find and allows acceleration that not many models generate.
But without any doubt, where it performs the most is in the auction. The new one Head Graphene 360+ Delta Hybrid It was born to define and it shows. All its materials seem to optimize its performance when the power is required and the auction, either by three or any other type, is outstanding. It is felt, enjoyed and earned.
A shovel Head Padel which is clearly intended for those aggressive and definitive backhand players seeking a prototype that gives them an extra offensive in his shots and, also, give them the definitive step towards power.
A Head Graphene 360+ Delta Hybrid which undoubtedly improves what has been achieved so far by the Austrian firm and fulfills what it promises: more efficiency and much more power.
* You can follow all the news of the world of paddle in our profiles of Facebook y Twitter as well as subscribe to our Newsletter .
Comments
comments